WORK, PLAY, REST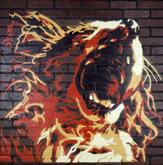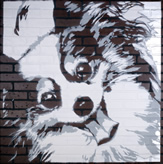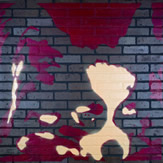 "Work," "Play," and "Rest" (above) were shown in April 2011 by Studio Christensen in the Rittenhouse Square neighborhood of Philadelphia. In this series, Dr. Tracy Steen and I examined the joy of living life intensely and in the present moment, as exemplified by our dog, Serena (1999-2014). Below is a description of the exhibit:
THREE PAINTINGS BY TOM LINCOLN
Work, Play, Rest
2011
Spray paint on artificial brick, 4 feet by 4 feet
This triptych portrays three states of being that are common to both humans and dogs: work, play, and rest. With equal intensity, a dog reacts to an intruder, instigates entertainment, and commits to stillness. No time is wasted in a dog's life.
The dog in this series is a Papillon (French for butterfly). A Papillon's oversized ears move like wings as they collect information and communicate emotion. Like all dogs, this Papillon models a life of full engagement, a good life.
Where is the good life in contemporary art? When tired images are passed off as iconic, when sterile precision fails to hide banality, when sloganeering and kitsch are stand-ins for wit, we crave art that makes a more intimate connection. These paintings are a celebration of our dog, your dog, and this wonderful neighborhood where we live.