WORK, PLAY, REST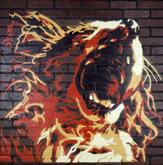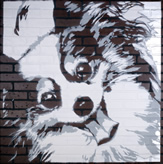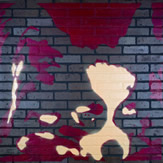 "Work," "Play," and "Rest" (above) were shown in April 2011 by Studio Christensen in the Rittenhouse Square neighborhood of Philadelphia. In this series, Dr. Tracy Steen and I examined the joy of living life intensely and in the present moment, as exemplified by our dog, Serena (1999-2014). Below is a description of the exhibit:
THREE PAINTINGS BY TOM LINCOLN
Work, Play, Rest
2011
Spray paint on artificial brick, 4 feet by 4 feet
This triptych portrays three states of being that are common to both humans and dogs: work, play, and rest. With equal intensity, a dog reacts to an intruder, instigates entertainment, and commits to stillness. No time is wasted in a dog's life.
The dog in this series is a Papillon (French for butterfly). A Papillon's oversized ears move like wings as they collect information and communicate emotion. Like all dogs, this Papillon models a life of full engagement, a good life.
Where is the good life in contemporary art? We crave art that makes an intimate connection. These paintings are a celebration of our dog, your dog, and this wonderful neighborhood where we live.