RITTENHOUSE SOUNDS
STAFF SELECTIONS
Rittenhouse Sounds, my music venture with Dr. Tracy Steen, collaborated with Stephen Stone-Bush and Max Stevens to scour the globe for innovative music.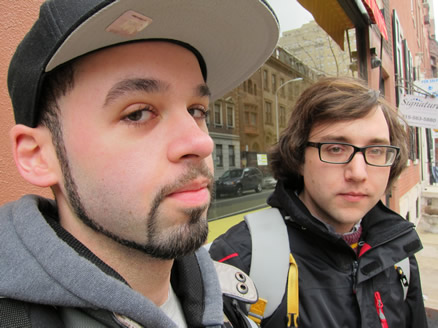 Stephen Stone-Bush (left) and Max Stevens
Rittenhouse Sounds' best new artists of 2011 were selected by Max Stevens and Stephen Stone-Bush.
Stephen and Max are graduates of Temple University and the University of Pennsylvania. We discovered them while they were working as cashiers at a convenience store in the heart of Rittenhouse Square. The music they played during their shifts became legendary. Max and Stephen's collective knowledge of music is impressive, and their ability to locate the best new bands is unsurpassed.
Beat Connection, "Sunburn"
Casiokids, "Verdens Største Land"
Chico Mann, "Hay Que Correr"
Dreadsquad, "Money Ah Dem God" (ft. Lady Chann)
Eru Dangerspiel, "Star Child"
Future Islands, "Tin Man"
Ghostland Observatory, "Glitter"
The Great Mundane, "Sliding Down Rainbows (The Great Mundane Remix)"
Jacques Renault, "In the City" and "In the Middle of the Night"
K.Raydio, "Make It Happen" (ft. Phonetic ONE)
Loden, "Gimme Gimme"
Machu Picchu, "Grey Gold"
Midnight Magic, "Beam Me Up"
Mux Mool, "Ladies Know (Live Edit)"
Soom T, "Dirty Money"